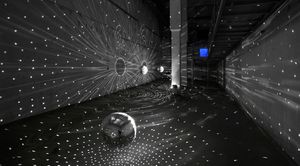 The light art museum is the only museum of its kind in Europe.
The museum opened in 2001. It is in the old cellar of the Lindenbrauerei in Unna. The light art museum is under the town library. You can make a guided tour through the museum. And each year the light art museum changes the exhibitions.
In the light art museum you can have a party or a wedding ceremony.
The Space-Speech-Speed exhibition
The Space-Speech-Speed is a very cool room in the museum. It was made in the years 1998 to 2001 by the lightartist Mischa Kuball. In this room you can see three disco balls which project the words "Space", "Speech" and "Speed". It looks very beautiful. Two oft he disco balls turn, one doesn't. It is the ball wich projects the word "Speed". This means that the artist thinks that all the changes are going too fast. A very good idea.
A dialogue with myself
This is a room from Jan van Münster. He designed it in 2005. In this very cool room you can see the word "I" in different languages. It means that everyone is arrogant and that a lot of people only think about themselves. You must see it!
Sources (pictures):
http://www.ruhrgebiet-industriekultur.de/images/lichtkunstzentrum2.jpg
http://www.art-magazin.de/asset/Image/_2010/Art-City-Guide/CG-ost-Ruhrgebiet/Lichtkunst-unna/bildstrecke/03_Kuball_Space_ar.jpg
http://rwe.com/blogs/rwestiftung/wp-content/blogs.dir/4/files/lichtkunst_j-jaspers/lichtkunst-un_12-05_08_146-2.jpg