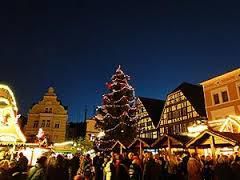 The Christmas market in Unna begins at the end of November and ends two days before Christmas Eve. It`s almost all around the city but especially at the market place.
The Christmas market of Unna is versatile. You can buy some presents for your family. Also you can see beautiful stands, for example spiced wine stalls or candy stalls with delicious candy floss. If you are hungry, you only go to the Christmas market in Unna and you are the happiest person in the world.
In Unna there is a very famous event especially for younger children. It`s the Punch and Judy show presented by Jonni Krause. There is a Punch with his dog. In every show there is a different demon. That`s possible because he has about 300 dolls. He has been doing this job since 1976 and he is famous for his shows in Unna.
When there isn`t Jonni Krause on the market place, there are little bands with Christmas songs or there are choirs with young but also old people. And sometimes there are orchestras with trumpets, trombones and drums for example.
The Christmas market is very nice and fun! For everybody there is something there which is interesting for him.
Come and visit it - it`s worth it!
Sources (text):
http://www.weihnachtsmarkt-deutschland.de/unna-weihnachtsmarkt.html
Sources (pictures):
http://www.ruhr-guide.de/freizeit/weihnachtsmaerkte/weihnachtsmarkt-unna/22711,0,0.htm
http://fraeuleinswunderbarewelt.blogspot.de/2013_11_01_archive.html