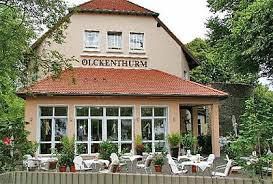 The Eulenturm is one of the towers of the city wall.
It was built in 1475 and it stands on the south wall.
Originally its name is Oelkenthurm, but because of a spelling mistake it was called Eulenthurm.
Today it is a restaurant, and under it is the oldest prison of Unna, but also you can see embrasures of the city wall. In the restaurant you can always eat a feast buffet, and you can rent it for a party.
Sources (pictures):
http://www.google.de/imgres?imgurl=http%3A%2F%2Fwww.fahrrad-tour.de%2FRuhrtalradweg%2FKunden%2FOelkenturmUnna_gross.jpg&imgrefurl=http%3A%2F%2Fwww.fahrrad-tour.de%2FRuhrtalradweg%2FKunden%2FOelkenturmUnna.htm&h=270&w=400&tbnid=aD6YfMRa-qDPuM%3A&zoom=1&docid=j4LnXnf_9dnr-M&ei=NYNcVbm0M8vzUsb7gUg&tbm=isch&iact=rc&uact=3&dur=184&page=1&start=0&ndsp=16&ved=0CCoQrQMwAw&biw=1366&bih=631
http://www.google.de/imgres?imgurl=http%3A%2F%2Fupload.wikimedia.org%2Fwikipedia%2Fcommons%2Fb%2Fb1%2FEulenturm_Unna_IMGP4637_smial_wp.jpg&imgrefurl=http%3A%2F%2Fcommons.wikimedia.org%2Fwiki%2FFile%3AEulenturm_Unna_IMGP4637_smial_wp.jpg&h=2810&w=4156&tbnid=g9LqYrfCz_0QjM%3A&zoom=1&docid=caROuduOut9fTM&itg=1&ei=aINcVdq-MsHjUdHugdgP&tbm=isch&iact=rc&uact=3&dur=865&page=1&start=0&ndsp=18&ved=0CDAQrQMwBQ&biw=1366&bih=631
https://encrypted-tbn2.gstatic.com/images?q=tbn:ANd9GcRw0S1FmsaDZKzFcd1Kvgow8Rv42i5m2i3lJ-2LsRH7trShH8DC